GoWireless Inc. Jobs: Overview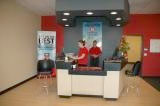 GoWireless is a leading provider of wireless products, services and accessories for mobile electronic devices in the United States. The Company is a Premium Retailer for Verizon Wireless, the largest nationwide wireless company. Founded in 1995, GoWireless was created to help wireless consumers quickly buy the right products and services at the right prices from the largest selection.
In addition to our Retail outlets, GoWireless provides a compelling electronic commerce solution for the highly fragmented mobile communications and portable computing marketplace by utilizing the convenience and functionality of the Internet to serve the business-to-business, ASP, VSP, and business-to-consumer markets.
GoWireless is the mobile technology provider that powers productivity anywhere, anytime. As such, Go Wireless offers a wide variety of mobile electronic devices such as cellular and PCS phones, wireless broadband, and accessories.
With the wireless industry growing rapidly throughout the world, the GoWireless Corporate vision is to enrich people's lives through wireless communications. This has enabled GoWireless to build a strong reputation as a Company for the consumer. The "Consumer First" approach has created an immense referral network that is the basis for the Company's solid foundation. GoWireless is rapidly becoming one of the leading wireless communications companies.
Contact Us
Locations
Colorado Springs, CO 80901
Littleton, CO 80126
Englewood, CO 80110